Tired of the kitchen chaos caused by a malfunctioning fridge? Frustrated by an oven that's gone cold in the middle of dinner prep? Don't let appliance troubles ruin your day! At Expert Repair Ottawa, we're the Gatineau appliance repair wizards ready to turn your home into an oasis of uninterrupted convenience.
Imagine a life where every appliance hums with flawless precision, where you can trust your dishwasher to dazzle with sparkling dishes and your dryer to deliver perfectly dried laundry. It's not a dream – it's what we do best.
From fridge meltdowns to oven nightmares, our certified technicians wield their magic to resurrect your appliances. It's not just about fixing; it's about restoring your peace of mind. Ready to say goodbye to appliance woes? Get ready for a transformation! Discover our array of services, crystal-clear pricing, and unwavering commitment to your satisfaction – your journey to hassle-free living starts here, with Expert Repair Ottawa.
Our Comprehensive Appliance Repair Services in Gatineau
At Expert Repair Ottawa, we pride ourselves on offering an extensive array of appliance repair services in Gatineau, addressing a wide spectrum of issues that may disrupt the seamless functioning of your essential household appliances. Our commitment to providing top-tier service is evident in our versatile expertise, which includes:
Our Repair Process in Gatineau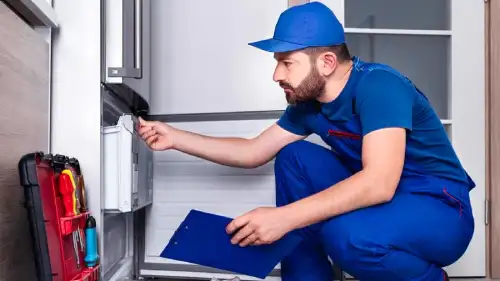 Initial Contact

When you reach out to Expert Repair Ottawa, our friendly customer service team will listen to your appliance issue, answer any initial questions, and schedule a convenient appointment for your appliance repair.

Diagnosis and Assessment

On the scheduled day, our certified technician will arrive at your location. They will conduct a thorough assessment of your appliance, using their expertise to diagnose the problem accurately.

Clear Explanation

Once the issue is identified, our technician will explain the problem to you in plain language. We believe in transparency, ensuring you understand the repair needed.

High-Quality Repairs

With your approval, our technician will proceed with the repair. We use only top-quality, genuine parts to ensure the longevity and performance of your appliance. Our team's skills and experience guarantee effective and lasting repairs.

Testing and Quality Check

After the repair is complete, your appliance will undergo rigorous testing to ensure it functions correctly. We leave no room for errors.

Transparent Billing

Before finalizing the service, we provide you with a detailed, transparent bill that outlines all charges. You'll know exactly what you're paying for.

Customer Satisfaction

Our commitment to your satisfaction doesn't end with the repair. We encourage your feedback and address any additional questions or concerns you may have.

Follow-Up

We value your trust in Expert Repair Ottawa. After the repair, we may follow up to ensure your appliance continues to perform optimally.
Our process is designed to be thorough, transparent, and customer-centric, ensuring that your appliance repair experience is hassle-free and results in appliances that work like new.
Brands We Repair in Gatineau
We are proud to offer our customers a comprehensive appliance repair service that covers all brands, models and manufacturers.
Frequently Asked Questions (FAQs)