Types of Dishwasher We Fix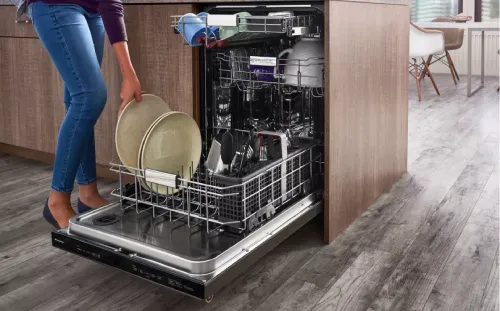 Built-in Dishwashers
Built-in dishwashers dominate kitchens. They are permanently put under the kitchen counter for a seamless effect. Our appliance repair services can fix drainage, water leaks, and control panel faults with built-in dishwashers.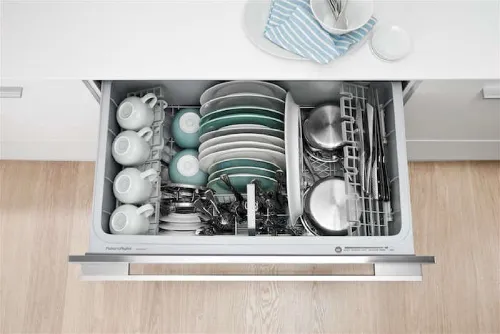 Drawer Dishwashers
Drawer dishwashers function independently or concurrently. They're versatile, especially in tiny kitchens. Our appliance repair provider can fix drawer dishwasher issues, including water not draining, drawers not opening, and more.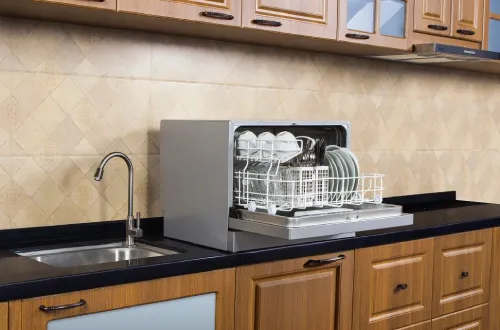 Countertop Dishwashers
Portable countertop dishwashers sit on the countertop. Small kitchens or supplementary dishwashers can use them. Our appliance repair agency can identify and fix issues with your countertop dishwasher, including water leaks.
Most Frequent Issues With Dishwashers
Before we get into the advantages of hiring a professional to fix your dishwasher, let's take a look at some of the more typical issues that homeowners frequently run into with their dishwashers:
Inadequate Cleaning

If the dishes in your dishwasher are not being cleaned correctly, it may be because the spray arms are blocked, the water pump is not working properly, or the detergent dispenser is broken. Dishes might be marred with residues and stains if the cleaning process is not thorough enough.

Leaks and Water Pooling

Damaged door seals, weak connections, or a defective inlet valve can all contribute to the dripping and leaking of water. The presence of water that has collected at the base of the dishwasher is a sign that there is an underlying problem that requires quick treatment.

Unusual Noises

Problems with the engine, the pump, or the spray arms might be the cause of strange noises that occur when the dishwasher is operating. These sounds could include grinding, rattling, or buzzing. Finding out where the noise is coming from takes the assistance of a trained specialist.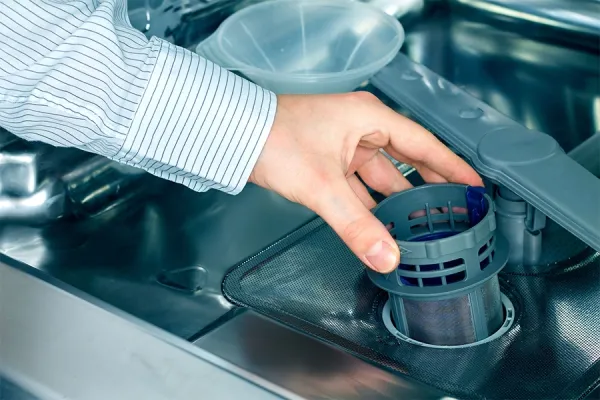 Failure to Start

It's possible that your dishwasher's faulty control panel, faulty door latch, or electrical difficulties are to blame if it won't start or if it's having intermittent power problems. These problems demand the diagnosis and repair of a trained specialist.
Tips for Preventing Dishwasher Repairs
Even while simple troubleshooting will fix a few of the more inconsequential difficulties with a dishwasher, it is necessary to proceed with extreme caution and steer clear of sophisticated repairs unless you have prior knowledge of them. The following is a list of do-it-yourself solutions to some of the most common issues with dishwashers:
Clean the Filter and Spray Arms

To prevent food particles from obstructing the passage of water through the dishwasher, the filter and spray arms should be cleaned on a regular basis. A clogged filter and spray arms might lead to a decrease in the effectiveness of the cleaning process.

Check the Water Supply

Verify that the dishwasher has enough water supply by inspecting the water input valve as well as the water supply line. Check that the valve is fully open and that there are no kinks or obstructions in the line.

Inspect the Door Seal

Examine the door seal for any indications of damage or wear and tear. A damaged door seal might result in leaks and insufficient sealing, which can negatively impact the functioning of the dishwasher. If required, the seal should be replaced.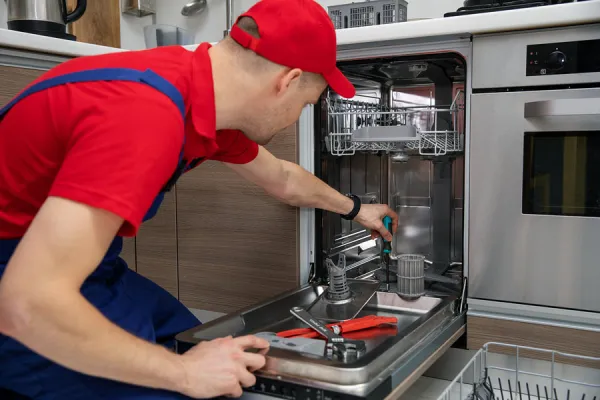 Run an Empty Cycle with Vinegar

Vinegar added to an empty cycle of the dishwasher can assist in eliminating built-up mineral deposits, which in turn improves the appliance's ability to clean thoroughly. For the required proportion of vinegar to the water, kindly consult the instructions that the manufacturer has supplied.
Common Dishwasher Issues We Solve
Dishwasher doesn't clean
Dishwasher won't drain
Dishwasher buttons don't work
Dishwasher lights flashing or blinking
Dishwasher door spring problems
Dishwasher leaking
Dishwasher keeps running
Smell like sewage or burning plastic
Dishwasher not getting water
Dishwasher overflowing
E1 Error Code Dishwasher
Dishwasher won't start
Dishwasher won't latch
Dishwasher dispenser doesn't work
Dishwasher won't fill
Dishwasher soap not dissolving
Starts and stops during wash cycle
Dishwasher heating element problems
Dishwasher motor problems
Dishwasher making noise
Dishwasher won't dry dishes
Error code on the electronic panel
Dishwasher not getting water
Dishwasher leaks from bottom
Will not run or has no power
Dishwasher running too long
Dishwasher not cleaning top rack
Bosch Dishwasher E24 Error Code
Bosch Dishwasher Not Draining
The 5 Most Common Causes of the 'E15' Error in Bosch Dishwashers
Common Dishwasher Replacement Parts
Chopper blade assembly
Circulation pump motor
Water Inlet Valve
Control panel
Rack Adjuster
Door hinge, spring and balance link
Door seal and latch assembly
Heating element
Overfill float switch
Power supply board
Thermal fuse
Sump and motor assembly
Timer
Drain pump motor and assembly
Why Choose Us for Dishwasher Repair Ottawa?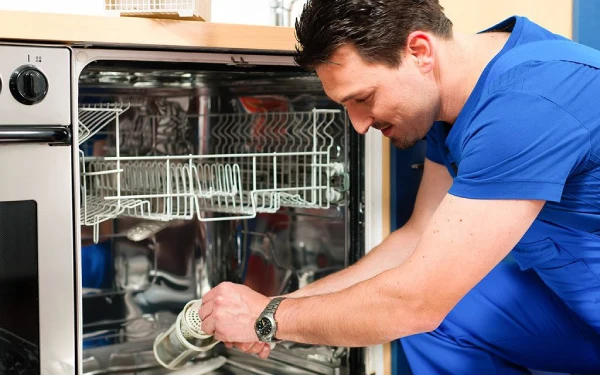 We have established a solid reputation in the community of Ottawa for being able to provide great services for the repair of dishwashers. The fact that we have so many happy clients is evidence of our expertise, dependability, and excellent craftsmanship.
We are aware of the time-sensitive nature of dishwasher repairs, and as a result, we make every effort to deliver service that is both rapid and dependable. Our specialists are trained and have access to the equipment and information they need to effectively handle any difficulties you may be having with your dishwasher.
When it comes to repairing dishwashers, our team of professionals has extensive expertise, certification, and high levels of qualification. They participate in consistent training in order to maintain their knowledge of the most recent developments in their field as well as the most effective methods of repair.
When it comes to price, we are firm believers in openness and honesty. We ensure that there are no surprises or hidden expenses by providing transparent quotations for our services and guaranteeing that there are no additional fees. Our mission is to offer you solutions that are both reasonable and efficient in terms of their cost.
The fulfillment of the needs of our clients comes first. Throughout the entirety of the process of repair, we go above and beyond to guarantee that clear communication, professionalism, and openness are maintained. We are committed to addressing any difficulties you may be having with your dishwasher and going above and beyond your expectations.